Affiliate marketing is one of the best and most sought-after methods to earn money online generating over $6 billion in turnover. Talking about the best affiliate networks out there, the ShareASale affiliate marketing program is definitely the most recommended one.

In this article, I will be taking you through a detailed ShareASale affiliate program review to give you a better understanding of how you can earn through the ShareASale referral program.
What is ShareASale?
ShareASale is an "affiliate marketing program". Simply put, an affiliate marketing program/platform acts as a bridge between brands and publishers. Publishers can promote products/services that are part of the specific affiliate marketing program and earn a commission for each sale of the product/service that they make.
How Does the ShareASale Affiliate Program Work?
So, how does the ShareASale affiliate program work?
Once you sign up with the ShareASale affiliate program, you can pick the products/services you wish to promote.
All the products/services you pick to promote will be tracked using a unique ShareASale affiliate URL, which makes it easier for the platform to track each sale made.
For each successfully closed sale, you will get a commission based on the preset rate.
As a marketer, you can choose how you wish to promote the products/services. You can choose to promote via blog posts, YouTube videos, social media posts, etc.
Additionally, you may consider using FlexClip, a powerful and user-friendly online video editing tool, to create professional promotional videos and attract a larger target audience.
How to Signup & Join ShareASale Affiliate Network?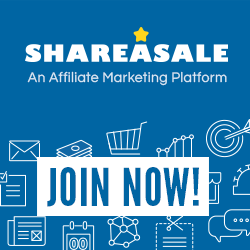 The first step to joining the ShareASale referral program is to sign up for an account on the platform.
Well, signing up for a new platform, especially an affiliate platform, can be quite a hassle. Not with ShareASale!
All you need to do is follow the steps below.
Launch the official ShareASale affiliate sign-up web page on your preferred web browser by clicking here.
Once the web page loads up, you will be able to see the sign-up form for the ShareASale account.
You need to begin the sign-up process by entering a username and password for your account. You also need to select your country of residence as well.
Once that is done, click on the button labeled "Step 2" to proceed with the sign-up process.
In the next screen that appears, enter your website URL and then fill in the other information related to your website such as its language, content type, and other promotional strategies you implement on your website.
Once that is done, click on the "Step 3" button to proceed.
In step 3, enter an email address that you wish to associate with your ShareASale affiliate account.
After entering a valid email address, click on "Step 4" to proceed.
In step 4, you need to provide your contact information which includes your postal address as well.
Moreover, you also need to provide a brief description of your website and also verify that you own the domain address that you entered in step 2 above.
After entering the above details, click on "Step 5".
In the final step, you need to enter your preferred payment option. Be sure to pick the option that's the easiest for you to receive payments.
Once you have finished selecting your preferred mode of payment to receive ShareASale affiliate commission, click on the "Complete Sign Up" button to finish the registration process.
You will have to agree to the terms & conditions and also verify that the information you provided is accurate before being able to complete the sign-up. Once you tick the boxes, click on the "Complete Sign Up" button again to finish the procedure.
Once the application is submitted, it may take anywhere between 1-3 days for approval. In case your application gets approved, you will be notified about the same via email.
ShareASale Features Review
Now you know in detail about the ShareASale platform and how to sign up for a ShareASale account.
However, if you were to use ShareASale in the best possible way, you also need to know about the various features offered by the platform.
In this section, I'll be providing you with detailed insight into the features of ShareASale.
1. Finding Affiliate Programs to Promote:
The ability to find affiliate program(s) that fits your type of website the best is one of the most important aspects of an affiliate network platform.

There are over 16,550 brands across all popular categories listed within ShareASale.

With so many options available, it might become quite a hassle for affiliate marketers to find the right product/service to promote.
However, the ShareASale platform solves this problem by offering the "merchant search" functionality.

To begin, all the brands/merchants are categorized based on the products/services they offer.
Apart from offering you categorized options, the "merchant search" feature also allows you to find the perfect affiliate program by filtering the merchants based on EPC, lead commission, sales commission, click/hit commission, etc
2. Create Customized Ads:
One of the best ways to promote a product/service on a website is by displaying banner adverts of the same. Apart from the standard sizes of banners offered by merchants, publishers can also request for customized ad banner sizes that match their website the best.

Not just in banner sizes, but publishers can also choose different ad types as well, depending on what they're trying to promote. You can choose to use traditional banners that promote a brand or product, a specific product, a category of products, or even banners that promote a promotional event or shopping season, etc.
3. Reporting and Tracking:
The ShareASale affiliate marketing platform also provides detailed insights into how well the campaign is working for the publisher. Analyzing the reports and tracking information provided by ShareASale makes it easier for you to pick the best product(s) for affiliate marketing.

Below are our top 3 reporting and tracking features offered by ShareASale to their publishers.
a. Activity Details:
As the name suggests, the "Activity Details" section shows all the details of your most recent commissioned transactions by the program. You can also filter the results using several parameters, which makes it easier to analyze the performance of specific merchants.
b. Invalid Links:
Invalid links give you an idea of affiliate links that redirect to closed affiliate programs, thus making it easier for you to find the program(s) that are no longer generating revenue and possibly replace them with other product links.
c. Traffic Report:
The "Traffic Report" metric allows you to understand how much traffic is being sent to specific merchants. Moreover, you can also analyze the conversion from each merchant by observing columns such as unique hits, number of sales, conversion, etc.
4. Payment Options for Publishers or Affiliates:
The ShareASale platform also offers various payment options for publishers to receive their affiliate commission.

Publishers can choose to receive their payments via Payoneer, Direct Deposit, or Mailed Check.

Out of the three, Direct Deposit is the quickest way to receive payment as in this method, the money is directly debited to the bank account.

Apart from the payment method, there are two additional points that you need to be aware of about receiving payments from ShareASale: their minimum payment threshold and payment timeframe.
a. Minimum Payment Threshold
The minimum payment threshold to receive payments from ShareASale is $50. This means that you can only process payment once your commission reaches at least $50.
b. Payment Timeframe
Payments are issued on the 20th of every month based on whether the threshold amount was reached before the 20th of the previous month.
For instance, payment will be issued on February 20th in case your affiliate commission balance crossed the $50 mark on or before the 20th of January.
5. Incentives & Loyalty Programs:
Marketers can partner with brands listed on ShareASale and give back to their top loyal customers depending on the purchases they make using the affiliate links on the marketer's website.

Customers would love brands that give them benefits in return for their loyalty to the brand. Thus, affiliates can build a loyal customer base and improve affiliate sales as well.
ShareASale Review: Ease of Use
The ShareASale affiliate marketing platform has quite a simple user interface that is hassle-free to get used to, in comparison to many other affiliate marketing platforms out there.
Once your ShareASale affiliate account registration is approved, then you can log in using your username/password credentials and get access to the "Publisher Dashboard".
The publisher dashboard is where you get access to all the features available to publishers.

To make things even easier, ShareASale also has a very well-detailed knowledge base along with video guides on how to get started and understand the various tools & metrics on the platform.
ShareASale Review: Customer Support
One of the best aspects of ShareASale that makes a huge impact, and honestly the one that I enjoyed a lot, is their customer support.
The ShareASale customer support team provides prompt responses to queries by existing customers and prospective customers.
Moreover, ShareASale provides various ways to reach their customer support team as well. You can contact the ShareASale customer support team either through the direct contact form on the official ShareASale website, by writing an email, or through their online support center where you can raise tickets and expect a reply in 1-2 days.
ShareASale also has an extensive text & video knowledge base that answers all the frequently asked questions about the platform and its features.
ShareASale Pros & Cons
If you're looking for a quick review of ShareASale, then below we have listed out its pros and cons to make things easier for you.
ShareASale Pros:
Beginner-friendly affiliate network.
Extensive lists of merchants across a wide variety of categories.
Absolutely free for affiliate marketers to join. You can join here.
Impressive commission rates can vary between 10 percent to 40 percent.
Multiple payment modes and easy payment process.
Professional experience without any hassles.
Refined search functionality that makes it easier to find the perfect merchant(s).
The higher acceptance rate for affiliate programs.
Easy-to-use interface with guides on how to use each feature/option on the platform.
ShareASale Cons:
Merchants must approve you to join their affiliate program before you can earn through commissions.
The minimum payment threshold of $50 is often a difficult challenge to achieve every month for new promoters.
There are a lot of merchants & products to choose from. At times it may get confusing which one to pick over the other.
ShareASale Alternatives
If you're looking for ShareASale alternatives to compare and pick the best one for your use case, then below are the top 5 ShareASale alternatives that are available in 2021.
1. Commission Junction:
Commission Junction, or CJ Affiliate as it is known now, is one of the oldest affiliate networks out there. With more than 20 years in existence, CJ Affiliate is considered as one of the best affiliate networks for new marketers.

CJ Affiliate also has a variety of brands available to promote including big names such as Verizon, and GoPro.

The minimum payment threshold for CJ Affiliates is also $50 and the payment is processed monthly.
2. Impact.com:
If you're in search of affiliate platforms that promote new and unique brands/businesses instead of the well-known & established ones, then Impact.com is where you should go.

Impact.com also works best for tracking and analyzing cross-device interactions and also functions as a fraud protection system to analyze fake clicks, app installs, etc.

The minimum payment threshold of Impact.com ranges between $25 and $100, depending on the selected payment mode.
3. JvZoo:
JvZoo is another popular affiliate network that works best for marketers promoting services/products related to affiliate marketing, digital marketing, Search Engine Optimization (SEO), etc.

The products/services portfolio isn't what makes JvZoo popular. It is the payment mechanism implemented by the platform.

Affiliate marketers are paid weekly, once the initial refund period of the product/service is over. Marketers can also choose from different payment modes such as manual bank transfer, PayPal, Payoneer, or even the in-house payment method of JvZooPay.
4. Clickbank:
ClickBank is another really popular affiliate income source for marketers around the globe. The platform was launched over 20 years back and is still one of the most recommended affiliate income generator sources for newbie marketers.

With Clickbank, you get to select from a wide variety of categories that suit all kinds of websites. Apart from product selection, the entire user experience of the platform is also top-notch.

The default Clickbank payment threshold is $100, however, affiliates can set the amount to be anywhere between $10 and $1,000,000.
5. Amazon Affiliate Program:
The Amazon Affiliate Program, also called "Amazon Affiliates", is the official affiliate program by online retail giant Amazon. Being the largest online retailer in the world selling everything from needles to industrial equipment, it makes much sense for Amazon to have an affiliate platform of its own.

On the plus side, marketers get access to all the products sold by Amazon that they can pick and promote at will. The affiliate commission rate depends on the specific category of product that you're promoting.

Talking about payment threshold, payment is only processed once the account balance reaches at least $100 if you are promoting products from Amazon.com but the payment threshold is only Rs. 2500 if you're promoting products from Amazon.in. However, you can increase this limit as well.
ShareASale Affiliate Program Review: Is It Worth It?
So, to conclude, is ShareASale worth your time and effort?
First of all, there are lots of affiliate marketing platforms out there.
So, what makes ShareASale stand out?
According to the experience I had on the platform, the reason for ShareASale's success isn't one single thing, instead, it is the combination of a variety of factors.

For starters, the sign-up process is simple.
Then, there are thousands of products/services to choose from. Also, instead of having to go through each option individually, you can filter and easily find products/services that match your requirement.
The commission rates are also better than what most other platforms offer. Also, the payment release structure is similar to what other platforms have, which is evident from the payment threshold structure of ShareASale alternatives listed above.
Finally, the user-friendliness and customer support offered by the platform also offer a positive feel.
Thus, if you're looking for an affiliate marketing platform that provides you with an overall positive experience, then ShareASale is worth considering.